Sewing Dressy Clothes with an Elven Touch: Sample garments w/photos
by Andreth Laiqualasse
A Christmas Dress
Throughout the recent years following the release of the LOTR films, I have found that with a little research and creativity, one can give handmade dressy clothes a real Elvish flare, without making them look too costumy. My first attempt was a Christmas dress made from Butterick pattern 4018, out of some navy blue panné velvet that was on sale, and trimmed with a beautiful, rather antique looking silver/black braid. I readily admit that the fabric is and looks cheap, but the trim gave it a slightly more sophisticated touch, as did the pattern. I bought both the fabric and trim a few years ago at Joann's. When I am sewing a special garment, I usually end up giving it a name. This one ended up as the "Arwen Nightgown," since I thought it looked a bit like a nightgown. Here is a front and side view of the finished dress.
by Andreth Laiqualasse
A Recital Dress
For my high school piano graduation recital later that year I made a dress with a pattern and fabrics reminiscent of Elven design. Since I would be playing piano in the dress, I didn't want large sleeves to get in my way during performance, so I chose the sleeveless version of Butterick 4128. I ordered a lovely sheer chiffon fabric in soft grey-green with darker grey flowers and gold metallic vines, which is happily still available from Trim Fabric. It is lined with a shimmery silver charmeuse satin that I found in the Joann's clearance section, but which is available from many on-line fabric stores as well. Because of this shiny under-layer, the dress has a subtle shimmery effect, but is not shiny or gaudy because of the matte chiffon over-layer. The soft grey colors, the trailing vines, the subtle shimmer, and the draped design are all delicately suggestive of Elven inspiration. Here is "The Piano Dress":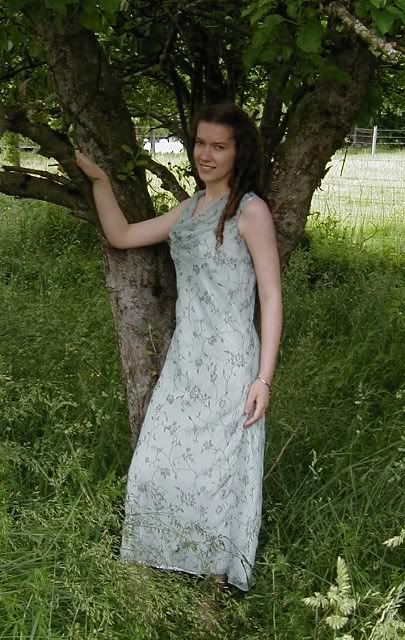 by Andreth Laiqualasse
A Graduation Gown
After encountering a sewing disaster when working on a graduation dress, I found this lovely delicate crinkled chiffon fabric with tone-on-tone curly vine embroidery, again at Joann's. It was available in a pale blue and soft white. The white instantly reminded me of Galadriel, and I am still kicking myself for not purchasing some to make her dress when I had the chance. Anyway, I decided on the blue since I figured the white would look too much like a wedding gown. I modified the now out of print Butterick 6593, leaving the sleeves unlined, and adding a lining to the main body of the dress with more of the silver charmeuse, and converting the neckline to a round one. I've received many compliments on this dress, and I like to call it the "Angel Dress," mainly because of the sleeves. Here is a front view:
And here is a side view with more fabric detail: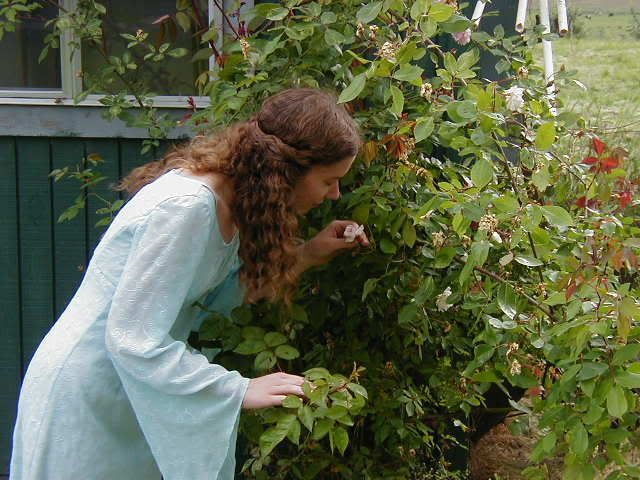 by Andreth Laiqualasse
A Lovely Skirt
My last elven inspired project was a grey suede skirt. This skirt is such fun to wear, and looks so stylish with just about everything. I used another retired pattern, McCall's 4457, and this beautiful dove grey sueded rayon I purchased from www.fabric.com. Unfortunately they no longer carry this fabric. It has a soft hand and has a wonderful drape, perfect for this pattern. It also has that subtle suede look, it reminds me somewhat of Arwen's Chase Dress. The uneven tiered hem gives it that leafy, natural look, so characteristic of Elves. Here is a photo: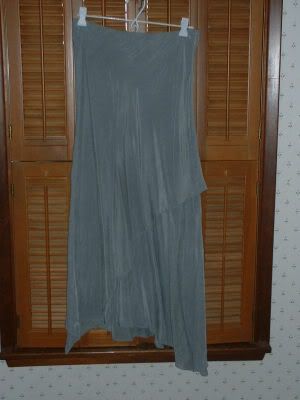 by Andreth Laiqualasse
General Guidelines for Elven Sewing
Choose drapey fabrics with a soft hand.
Colors should be soft or rich, but should always have an elegant, antique or greyed look to them, never bright or loud which can look cheap and gaudy.
Keep prints simple, or use a solid; texture is everything. Look for tone-on-tone designs and embroideries, rich weaves, slubbed silk, sheers, velvets, and suede finishes.
Choose shimmery fabrics instead of shiny ones. This gives a more subtle and elegant look. Avoid satin, except in linings and under-layers.
Patterns should have long lines, with relatively few horizontal seams.
Fitted patterns are better, and side shaping is preferred to darts and princess seams. Still, princess seams and darts may be more flattering to fuller body types, although they do not look as authentic.
Light and sheer layers give garments an airy and mysterious quality, characteristic of Elves.
Asymetrical hems and any design that imitates flowers and leaves are quite effective.
Vines, leaves, and natural shapes are always good.
Make sure that metallic trims are somewhat antiqued or dulled; very bright gold and silver look fake and cheap.
Some of my favorite Elven/LOTR type fabrics:
Wool or Wool Blend Crepe
Rayon Crepe
Sueded Rayon/Bemberg Rayon
Embroidered Crinkle Chiffon
Satin Charmeuse
Lightweight Cotton Jacquard/Damask
Stretch Velvet
Silk Chiffon
Dupioni Silk
Silk Habotai/China Silk
Silk Noil
Silk Velvet
My Favorite On-line Fabric Sellers
www.fabric.com
www.denverfabrics.com
www.trimfabric.com
www.dollarfabric.com
www.syfabrics.com
www.thaisilks.com
www.dharmatrading.com
www.fabricdirect.com
www.fashionfabricsclub.com

Please feel free to PM me if you have any questions, comments, or suggestions.

Andreth Laiqualasse