This Realm is hibernating. Please choose another Realm.
---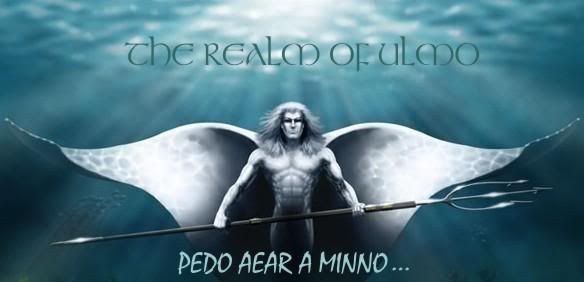 Welcome to our Realm!
"Terve! Hej! Hey ya'll! Gegroet! Hallo!" Glad you stopped by! Come on in and have a look around the homepage of the Realm of Ulmo.
Like the waters that traverse Arda in all its myriad forms, so too, the people who make up the Realm of Ulmo are a diverse group. Tolerance, honesty, a sense of community and a willingness to help out and encourage whatever our members hope to achieve in life are valued traits shared by all who join. But above all that, we have a ton of fun along the way!
Our activities reflect that as well. We have areas for the writer in you to offer your work, be it prose or poetry. A place just to chat about your day, however it went. A tutorial thread for those among us who are well…less than computer literate needing a bit of help and for the last few years an international exchange of Christmas cards. Plus a plethora of games, a couple of RPG's, the never-ending battle for the Scepter…and so much more!
So read on intrepid searcher! Feel free to browse through the 'Charter' to learn more. Also, to find out more about Ulmo go to 'Valar Info'. If you like it here…join us! We'd love to have you as part of the family. 🙂
Current Realm leader:
kellymulder
I Aear can vên na mar!
Ulmo
There is a stately hall, unseen,
With treasures filled from floor to beam;
From darkest blue to vibrant green,
The walls are clad with banners keen.
There pillars stand in row by row
And gleaming gems there gently glow;
A steady stream of stars does flow
Through vast and mighty halls below.
The sparkling roof like silver shines
In rainbow gleam of fair designs;
It shimmers bright with splendid lines
From lowest ridge to tallest spines.
The master there is strong and wise,
With temper mild, but sure to rise
If brash his rule a guest defies;
His wrath he never does disguise.
The Dark One fears him, and his might,
And darkling minions flee in fright;
To them his hall's a dreadful sight,
And he would quench them with delight.
The Teleri his teachings sought,
Who fairest sing, and not for naught;
Ilúvatar him music taught
And he then it to Eldar brought.
From whitest shells his servant made
A pair of horns that oft he played;
His music fearful Star-folk stayed,
Upon their hearts a spell was laid.
With Salmar's gift the Lone One's song
Turned Elven fear to longing strong;
There by the shore the trembling throng
Would still have stood and waited long.
In ev'ry heart a yearning wakes,
And wistful wish there also aches;
With music fair their peace he takes,
The mighty lord of seas and lakes.
The Eldar Ulumúri praise,
His horns with which he music plays;
A longing great his tunes do raise
Which lasts till end of living days.
Both elves and men he did befriend,
And oft advice he would them send;
With power great he did defend
The Hidden Keeps until the end.
The Vala rules his realm alone,
And lonely stands the Lone One's throne;
No spouse for him to call his own
Has ever in his hall been shown.
His servant oft his halls upset,
And sailors this do not forget;
His treason he did soon regret,
Returned he did and ne'er more left.
When by the Strong the Wild was lured
His spouse his raging wildness cured;
From love for him she this ensured,
His loyalty since then endured.
He rules each lake, he guards each ford,
His power's in each bay and fjord;
Of Seas he's King, of Waters Lord,
'Tis Ulmo, whom his servants ward.
~Teciltur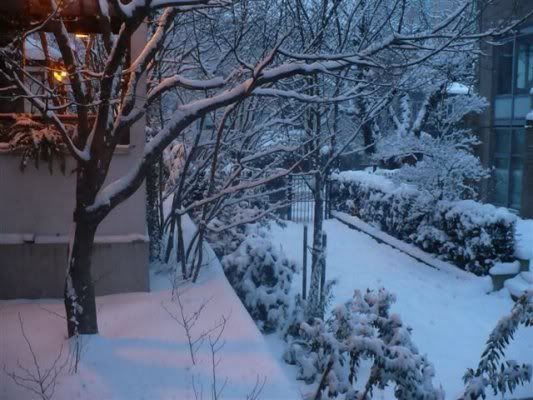 Snowy Twilight
Photo Contest – Winter 2009
Gumawerian
Midsummer Morning
As fresh as the raindrops that fall from the sky,
As gay as the may-stream that passes me by,
As wild as the west wind that blows through the trees,
And soft as the whispers it carries to me,
As sweet as the flowers that bloom on my way,
That blossom in glory for all of the day,
As green as the new shoots that spring from the grass
And greet me with fragrance wherever I pass,
As warm as the sun's rays that shine as I roam,
And calm as the starlight that welcomes me home,
As bright as the promise of seasons new-born:
As all of these things is this Midsummer morn.
~Gumawerian
Cross-Realm Poetry Contest #9 Winner
Awards
May 2004 ~
Ulmo writes the first Council Courier
July 2004 ~ CoE Website of the Month: Pervy Eomer Fancier – by LadyCeleborn
October 2004 ~ CarolP: Moderator of the Month
November 2004 ~ Veaglarwen: Administrator of the Month
December 2004 ~ LadyCeleborn: Moderator of the Month
January 2005 ~ BelleBayard: Moderator of the Month
June 2005 ~ CoE Song of the Month: Yeah! – Parody of "Fame" by Ninjoo
July 2005 ~ Ulmo writes three articles for the Various Realms Courier. Articles written by longbe4thesun and kellymulder
August 2005 ~ Naurlas: Member of the Month
August 2005 ~ BerethEdhellen: Moderator of the Month
September 2005 ~
Ulmo writes the Council Courier
December 2005 ~ Ulmo wrote two 'Top Tens' for the Council Courier
January 2006 ~ Interview with LadyCeleborn
February 2006 ~ Ninjoo: Member of the Month
April 2006 ~ Elioclya: Admin of the Month
September 2006 ~ Ulmo writes the first
Realm Newsletter

Illuvatar's Sceptre


August – October 2005

November 2005 – January 2006

May 2006 – July 2006

November 2006 ~ The last realm to hold Illuvatar's Sceptre
---

Realm News