---
REALM OF YAVANNA KEMENTÁRI
---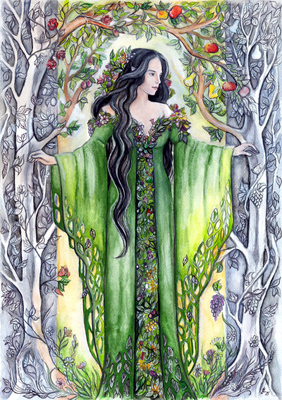 Yavanna by Janka Lateckov with her permission 10-11-18.
THE REALM OF YAVANNA KEMENTÁRI ANTHEM
by Nauma
Oh say, can you see by the Two Trees' fair light,
How proudly she stands, Yavanna the Valië,
Like a tree in the spring, with her robes glowing green,
And with flow'rs in her hair that make Aulë sneeze.
She warbles all day as she goes on her way,
Walking o'er the wide earth, which makes Manwë say:
"Oh say, does that tall, singing Valië yet fret
For the fate of her Trees? Guess I'll ask for some Ents!"
Welcome to the Gardens of Yavanna Kementári. Please feel free to look around and make yourself at home in the shade of the Two Trees of Valinor, Telperion and Laurelin. Find out more about us in the 'Charter' and join in for some fun, chocolate-filled times. We have room for everyone! 🙂
Forum
If you have any questions about the realms, do not hesitate to PM NenyaGold, the New Realm Head, or JaimeLouise, one of our Realm Leaders When it warrants, we will vote for our second one.
If you have already joined our realm and want to experience some fun times with the rest of the members, visit our Forum. There's plenty to do for all of you!
---